Summary
A variety of summarization techniques have recently been published to manage the growing volume of media data, but most of them are oriented toward homogeneous media conversion and are limited in terms of compression ratio. In this study, we focus on vignette illustration. An Example of vignette illustration is shown below.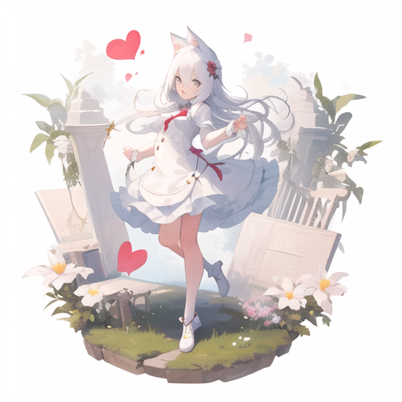 Vignette illustration expresses the story content of a video work or game in a compact way and
allows the viewer to understand the world perspective with a single glance. If video can be converted to vignette illustration, it is expected to provide a more highly compressed summary of the media information. In addition, visualization of the world view is also realized at the same time. In this study, we propose VigNet (video image generative network) for semiautomatic generation of vignette illustration.
First, input a video into VigNet. The following is an example of an input video.
Second, VigNet selects some frames for the character and some frames for the stage. Users can choose their favorite frame images from the group of character frames and the group of stage frames.


Finally, VigNet automatically generates a vignette illustration from the two frame images selected by the user. This allows the system to generate the following vignette illustrations while reflecting viewer preferences

Members
Publications
Presentations (Refereed)
Mayu Namai, Issei Fujishiro:"Prototyping of semiautomatic generation of vignette illustrations from video," in proceedings of Visual Computing 2023, Shibaura Institute of Technology, September 18, 2023
Presentations (Unrefereed)
Mayu Namai, Issei Fujishiro:"Semiautomatic generation of vignette illustrations from video: Reflecting viewer preferences," in Proceedings of Expressive Japan 2023 (The Institute of Image Information and Television Engineers Technical Report, Vol. 47, No. 9, pp.301-304, AIT2023-120), Tokyo Polytechnic University, March 6, 2023
Mayu Namai, Issei Fujishiro:"Semiautomatic generation of vignette illustrations from video," in Proceedings of the 85th National Convention of International Processing Society of Japan, Vol. 2, pp. 255―256 (6X-03), The University of Electro-Communications, online & onsite hybrid, March 4, 2023
Mayu Namai, Issei Fujishiro:"Prototyping toward automatic generation of vignette illustrations," in Proceedings of Visual Computing Workshop 2022 in Lake Suwa, Lecture No. 16, Nagano, November 25–26, 2022, [Abstract: The Journal of the Institute of Image Electionics Engineers of Japan, Vol. 52, No. 1, pp. 252–253, January 2023]
Mayu Namai,Issei Fujishiro:"Prototyping toward automatic generation of vignette illustrations," 情報可視化合宿, Poster Presentation, Tokyo Institute of Technology, September 24-25, 2022
Awards
Domestic awards
Mayu Namai:the 2023 Masakazu Nakanishi Encouragement Awards,Graduation Research, Department of Information and Computer Science, Faculty of Science and Technology, Keio University, Semiautomatic generation of vignette illustrations from video,March 23, 2023
Mayu Namai,Issei Fujishiro:Excellent poster awards・studioVOXEL award,in Proceedings of Expressive Japan 2023, Semiautomatic generation of vignette illustrations from video: Reflecting viewer preferences,March 6, 2023
Mayu Namai,Issei Fujishiro:Student encouragement awards,in Proceedings of the 85th National Convention of International Processing Society of Japan,Semiautomatic generation of vignette illustrations from video, March 4, 2023
Grants
Grant-in-Aid for Challenging Research (Pioneering):20K20481 (2022―2023)
Grant-in-Aid for Challenging Research ((Exploratory):23K18468 (2023―)