Abstract
Currently, there are increasing opportunities to experience 3D images in video games and at amusement facilities. However, many stereoscopic video experiences use head-mounted displays (HMDs) and huge devices such as CAVE. There are still not many that can be experienced on general devices such as TVs and personal computers.
An example of an optical illusion that can let people feel three-dimensional effect is 3D trick art using a sketchbook. The picture shown below is the work of Hideyuki Nagai (official website).To apply this illusion, we can use two displays arranged in an L shape to display a stereoscopic image.
According to the movement of the user, the stereoscopic image can be presented by dynamically displaying the shadow on displays arranged in L shape. This research is introduced on this site(Web).
Video
Naked-Eye 3D Imaging and SAM(Smart Ambient Media)
The user's line of sight is taken as input and the video is output to displays arranged in L shape. This research holds the core concept of SAM because it has the flow of Human-in-the-Loop.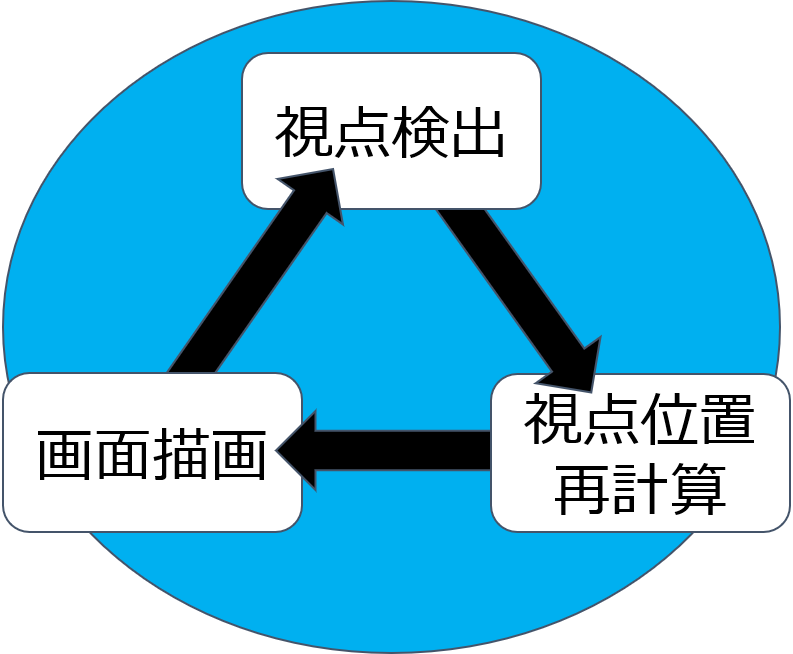 Members
| Name | Affiliation | Web site |
| --- | --- | --- |
| Keita Tokunaga | Keio University | |
| Genki Nagasawa | Keio University | |
| Takeru Isaka | Keio University | |
Publications
Journals
Takeru Isaka

,

Issei Fujishiro

: "Naked-eye 3D imaging through optical illusion
using L-shaped display surfaces," The Journal of the Institute of Image Information and Television Engineers, Vol. 70, No. 6, pp. J142―J145, May, 2016 (in Japanese).

(Republished as a research highlight

(No. 12), Vol. 73, No. 1, pp. J108―J112, January 2019)

[doi: 10.3169/itej.70.J142].
Grants
Grant-in-Aid for Scientific Research (A): 20K20481 (2019-)