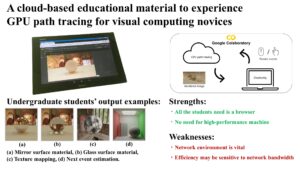 Ohkawara gave an oral presentation at the educational paper session of Eurographics 2021.
This presentation is based on "Experiencing GPU Path Tracing in Online Courses," published in Graphics and Visual Computing.
Masaru Ohkawara, Hideo Saito, Issei Fujishiro: "Experiencing GPU path tracing in online courses," Eurographics 2021 Education Papers, Vienna (virtual), May 2021.